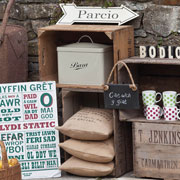 Over the past thirteen years, Bodlon has led the way in changing the way consumers from all over the world view and source Welsh produce. The quality and provenance of all our goods is paramount, but equally important is the integrity of their design. Bodlon grew from a desire to showcase award-winning Welsh food produce in hampers that have been sold all over the world. We knew that the best of Wales could go head to head with market leading products from anywhere and come out as winners. And we were right.
It is this unshakable belief in Wales, and our idiosyncratic view of the world that has helped Bodlon grow. We wanted to demonstrate how contemporary Welsh goods could stand proudly next to the best designs from across the UK and beyond. .
So whether it's kitchenware or cushions, posters or pottery, and whether you live in Kensington, Kuwait or Kidwelly, we're certain that you'll find something at Bodlon that will help make your home a cartref.